Trastevere is one of Rome's liveliest neighborhoods. Locals and travelers love to stroll through its narrow and cobbled streets with gelato on the go. At night it becomes a prime spot for entertainment and nightlife. The neighborhood also has great restaurants making it an ideal spot for foodies. And of course, some lovely attractions are based here making Trastevere one of the best stationary options while in Rome.
Travel Guide to Trastevere
Attractions
Trastevere is famous for its churches and artwork. But the most memorable experience will be exploring this neighborhood by walk as the atmosphere is amazing.
Santa Maria de Trastevere Church
This is the oldest church in Rome dedicated to the Virgin Mary. The legend says that it's constructed on a place where a fountain of oil sprang from the ground. The church is most famous for its 12th century golden mosaics. It's located in the Piazza Santa Maria in Trastevere, the main square of  the neighborhood. It's always full of locals, students and travelers at both day and night.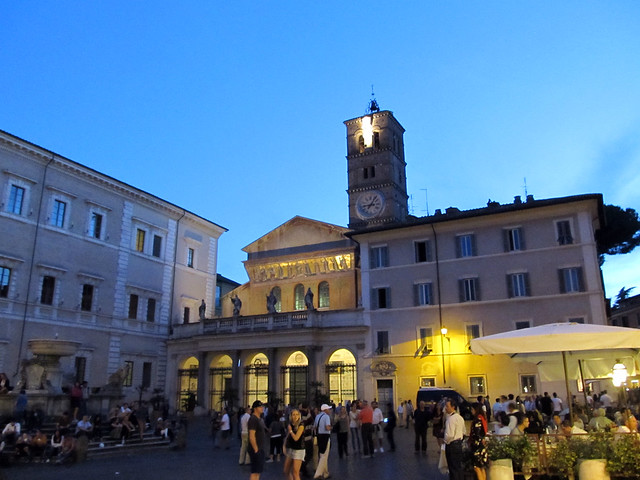 Gianicollo Hill
One of the best viewpoints in the city. And the best of all – it's free of charge. Gianicollo is also a  green area with embassies and fine architecture that deserves to be explored. One of its best secrets are the Botanical Gardens.
This classic Renaissance villa was built in the 16th century. It's famous for Raphael's and Sebastiano del Piombo's frescoes. If you are an art lover it's worth paying a visit. The entrance fee is 5 EUR.
This was one of my favorites places in Rome! Don't skip it. It's oasis of peace and beauty and there are hardly any tourists here! The gardens are located on the slopes of Gianicollo and contain about 8000 species including Japanese gardens and bamboo. Also a hardly known fact is that the gardens offer beautiful views of Rome. With no tourists around. The entrance is 8 EUR but it's so worth it!
Passeggiata
Passeggiata is also known as the early evening stroll and it's an important part of Roman life. The streets get busy in the night, especially in Trastevere, and the locals like to opt for an ice cream on the go. Besides the atmosphere this is also a way of showing off. People like to get dressed nicely and check each other out.
Where to stay
I've stayed in a nice studio which was booked through the Flat in Rome. It's a famous rental accommodation site in Rome that offers apartments with no commission. Of course, they also offer apartments in other city districts but if you plan to station yourself in Trastevere this might be a good choice. The apartment can host 4 people and is ideal for group of friends.
The studio has kitchen with oven, microwave, fridge and a bathroom with washing machine. Air condition and WiFi are also free of charge.
The apartment is located just opposite the Isola Tiberina (the island on the Tiber river) and it's close to major attractions such as Vatican and the Colosseum. If you love spending your evenings outside, exploring bars and restaurants this is a great area.
Flat in Rome was also picked as one of the best rental accommodation sites by the Lonely Planet guidebooks.
Check out their offical website or their Booking.com profile for more info.
Eating & Drinking
Trastevere is foodie heaven. The neighborhood has so many restaurants, trattorias and cafes. Many restaurants offer promotions so it's ideal for those on a budget. For example, for just 10 EUR you could get a starter, main course, second course, dessert and a drink. Trastevere is city's most popular area to drink and party so it might not be for everyone's taste. It can also get bit loud during the night, depending on the area where you stay. But, if you are a foodie type and you love discovering bars it's a great stationary area while in Rome.
Transportation
Tram 3 – Viale di Trastevere – Colosseum
Bus H – Viale di Trastevere – Termini
What is your favorite neighborhood in Rome? Do you have any specific tips to share about Trastevere? Feel free to comment below.